7 min read
Interview with Archer Knight's Co-Founder & Executive Director, David Sheret
Archer Knight : May 5, 2023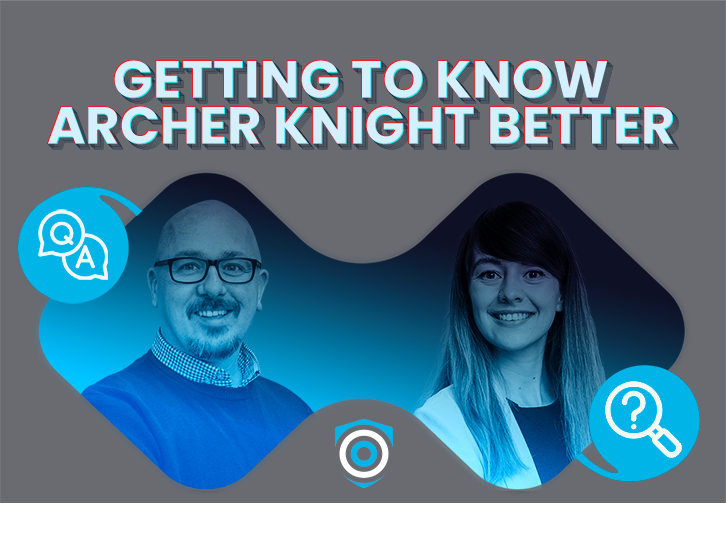 We're pleased to announce the launch of our "Getting to know Archer Knight better" marketing campaign, where we'll be sharing insights and interviews with our team members on LinkedIn. To kick things off, our Marketing Intelligence Team Lead, Kelsey Crehan, sat down with our Co-Founder, David Sheret, to discuss all things Archer Knight. Learn more about David's journey, the inspiration behind Archer Knight, and our vision for the future...together with a few rants and his relationship with Eddie Van Halen's Dad!
Being Sacked, Fake Entrepreneurs and Eddie Van Halen's Dad! Interview with Archer Knight's Co-Founder & Executive Director, David Sheret.
As part of our "Getting to know Archer Knight better" marketing campaign, we are interviewing the team in a series of Linkedin articles. To kick this off, Archer Knight's Marketing Intelligence Team Lead Kelsey Crehan interviewed Co-Founder David Sheret.
KCR: What inspired you to co-found Archer Knight (Holdings) Limited, and what was the vision for the company at the outset?
DSH: Archer Knight was born from adversity. Both Michael Watson and I had been paid off from the company we were working with. It's not a nice thing, but in many ways it was a blessing in disguise. It gave us the opportunity to do things for ourselves. We decided that this was the time to put our money where our mouths were and start a business. We were inspired by the opportunities in the offshore energy space, particularly as the industry was starting to shift towards renewable energy sources. Our vision for Archer Knight was to provide a new software as a service offering and also expert consultancy services to clients across both the oil & gas and renewable energy space, helping them navigate this transition but from an operational perspective as opposed to the usual transactional way. At the start, we wanted to do things a little differently, and that proved difficult. We realised that we were looking at things the wrong way. It's not about being different. It's about being better than the way things are done currently. Crack that conundrum, and you're on to something.
KCR: What have been some of the biggest challenges that Archer Knight has faced since its founding, and how have you overcome them?
DSH: There have been a few. We started in a downturn, that was pretty difficult. Then COVID came, and that was scary. I often try and normalise things by remembering back to how we all felt when COVID happened: concerned, confused, out of our comfort zones. It's all too easy to forget, but it was uncharted waters, and none of us really knew what we were doing. We decided at the time to recruit rather than pay off or furlough. We felt it was the right thing to do to protect our team and also build for the future. It proved to be the right decision, I believe, although it was precarious. Another challenge we constantly face is keeping up with the rapidly changing landscape of the energy industry. We've had to stay agile and adaptable, learning and evolving our services to meet the changing needs of our clients. We've also had to work hard to differentiate ourselves in a crowded market, by providing bespoke solutions that are tailored to each client's specific need. Finally, the banks and public sector bodies. The banks don't really help small businesses, in my opinion. They take little to no risk, and there's very little human engagement. The public sector bodies and industry bodies are often political and entrenched in red tape that takes up so much time, time that should be focused on creating products and supporting clients. I'm at pains to say that this is just my opinion based on what I've seen and witnessed over the past 6 years, but it is clear they can do more to help small businesses.
KCR: What are some of the key values that guide Archer Knight as a company, and how do those values translate into the work that you do?
DSH: At Archer Knight, we're completely guided by our core values: be honest, be fair, be good and be there. Core values often get a bad press, that they're soft and not needed. But trust me, when you have a contentious or difficult issue, they're the North Star you look to. They are the reason your company exists. We always strive to be at the forefront of the industry, constantly pushing the boundaries of what's possible in the offshore energy space. Our values translate into the work that we do by ensuring that we always deliver the best possible solutions to our clients, based on integrity, reciprocity, knowledge and expertise.
KCR: Can you tell us about a particularly challenging project that Archer Knight has worked on, and how you were able to successfully overcome the challenges?
DSH: One challenging project that comes to mind was working with a large offshore contractor. They were a blue-chip client, and we were delighted to be working with them. But their CEO started asking us to do more and more for him without the correct reimbursement. We had clear terms and conditions in place, but he wanted to push things as far as he could. We took the decision to step away from the contract. It wasn't financially a good idea, but the core values came to the fore. So did we successfully overcome it? Not sure. Depends what way you look at it, I suppose. I think we did, though, as it showed we won't be bullied by an insecure leader.
KCR: How do you stay up to date on the latest developments in the offshore energy industry, and how do you incorporate that knowledge into the services that Archer Knight provides?
DSH: I'm passionate about learning, but I'm also dyslexic, and I struggle to read, so I listen to podcasts and watch a lot of science-based programs. The team in Archer Knight are all self-learners, and there's a healthy rivalry to introduce new ideas and methods. This culture helps us stay on top of the latest industry developments, including trends in technology, policy, and regulation. We also attend industry conferences and events and maintain close relationships with industry leaders and other sector experts. We incorporate this into the services we provide, which helps us to keep up-to-date on the latest trends and technologies, and as a result, continue to deliver innovative solutions to our clients.
KCR: What do you think sets Archer Knight apart from other market intelligence/consultancy firms in the offshore energy space?
DSH: I struggle with that kind of question. Two reasons why: one, the answer carries more weight and value if it comes from another person, possibly a client. I'm too brand biased, anyway. Secondly, it's an infinite road we're all on. Being the best or unique is often pretty subjective. We just need to focus on being better tomorrow than we are today. The rest will take care of itself.
KCR: What are some of the qualities that you look when hiring people to work at Archer Knight, and how do those qualities contribute to the success of the company?
DSH: Attitude, ability, and attitude again. These are the number one traits we look for. HR job templates can kill businesses. They all too often set out prescriptive check points that send you down a road of mediocrity. We like to find people that show character, eagerness, and humility. Of course, there have to be some core skills, but in general, that's the route we take. And it's worked well to date. We look for people who are passionate, dedicated, and driven to succeed, but importantly, team players. We also look for people who are curious and eager to learn and who are not afraid to challenge the status quo. Equally, if you come in and rock the boat, we're prepared to make the hard decisions of letting people go for the greater good. The core team comes first. We need good people all pulling in the same direction. As you know we've recently taking on new members of staff and they need to look at people like you, Kels, like Lynne, Andie, Ross, Stephanie. People that come in, commit to the cause, stay loyal and add value to the whole team. You guys are the benchmark. Less than that isn't good enough.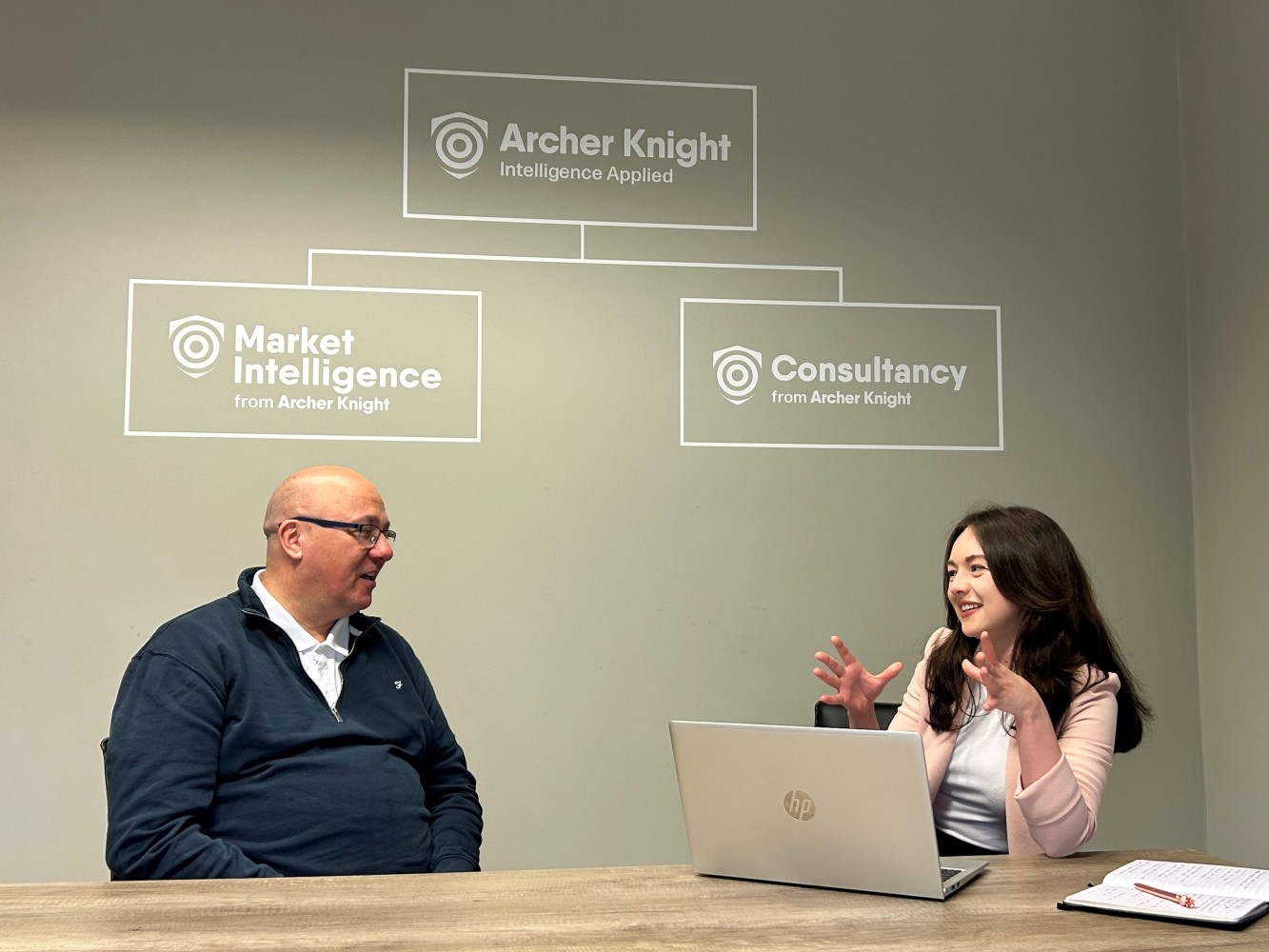 KCR: Can you tell us about a particularly rewarding project that Archer Knight has worked on, and why?
DSH: One project that comes to mind is working on an M&A project for a man I'd known and admired for 10 years. He took a major risk by entrusting our company to be their exclusive advisors during their company's sale process. We were a small firm from Aberdeen, and they were a multimillion-dollar US company with a highly sophisticated and knowledgeable board and shareholder collective. It would have been easy for him to choose a brand partner, but they chose us because they trusted us. We ended up concluding the sale of the company to a multi-billion-dollar US firm, with all parties delighted with the outcome. It was one of the highlights of my career so far, and it showed that if you work hard and put integrity first, you can make things happen."
KCR: What is your long-term vision for Archer Knight, and how do you plan to achieve that vision?
DSH: To build a firm that gets better every day. We really have no greater plan than that. I know this might horrify some, and I don't say it flippantly. Of course, we have a corporate vision, goals and forecasts, but you can create these till they're coming out of your ears. The truth is we only have now; the past is history, and the future has yet to arrive. As I said previously, we just want to be better tomorrow than we are today. If we focus on that, we give ourselves a great chance to succeed.
KCR: Finally, what advice would you give to aspiring entrepreneurs who are interested in entering the offshore energy industry?
DSH: Number one: don't ever call yourself an entrepreneur; that is for others to say. Also, if you're applying for a job, then you're not an entrepreneur, in my opinion. Entrepreneurs make their own money. They are people, speaking from a North East of Scotland perspective, like Sir Ian (WGMS) Wood, James Watt, Dan Millard, Mike Wilson or outside the energy sector, Annie Kenyon, Richard Tinto or Michael Milne. Entrepreneurs are people that have a vision and go out there and make it happen. That doesn't mean they're better than someone who wants to enter the workforce; they're not. But it's important to use the right moniker, and when I see a CV land in my inbox from a person looking for a career role, and they have entrepreneur in the first paragraph, I struggle to read on with any conviction. I feel like saying, so you're an entrepreneur. Great, you won't be needing a salary then? We can just set up a JV and share the risk together, sound good to you?
Ok, rant over. My advice then? Well, giving advice is much like asking what your favourite album is. It alternates over time but the core usually stays the same.
Here you go:
Stay focused on objectively looking for the truth, not left or right, or centre bias. Faith, science, culture…whatever, try and stay convicted to challenging everything respectfully and with an open mind.

Stay passionate, stay curious, tell negative people to Fox Trot Oscar, and stay committed to the good people in your life, and to being good for them.

Never buy a brand to tell someone you bought it; buy it because you like it and it has value and utility to you.

Always let praise go to your heart and criticism go to your head, not the other way around.

Find a business partner you trust and who has a complimentary skill set. Mike and I are very different people (although we do share a really juvenile sense of humour, worryingly!). I think we work well together and our Chairman

John Scrimgeour

has often said he invested in us because we blend well together. Mike is also integrity personified and that is a rare and valuable commodity to find. Ok, that's enough compliments for him.

And as the late, great

Eddie Van Halen

(if you don't know who he is, look him up. You won't be disappointed) was told by his Dad, play like this is your last night on earth, knowing that you'll live forever. Good enough for Eddie, good enough for all of us.
To contact Kelsey or David email:
kcr@archerknight.com or dsh@archerknight.com